John D. Antone
Art Belongs to Dreams
Written by: Slavojka Akrapovič
Photos: courtesy of the artist.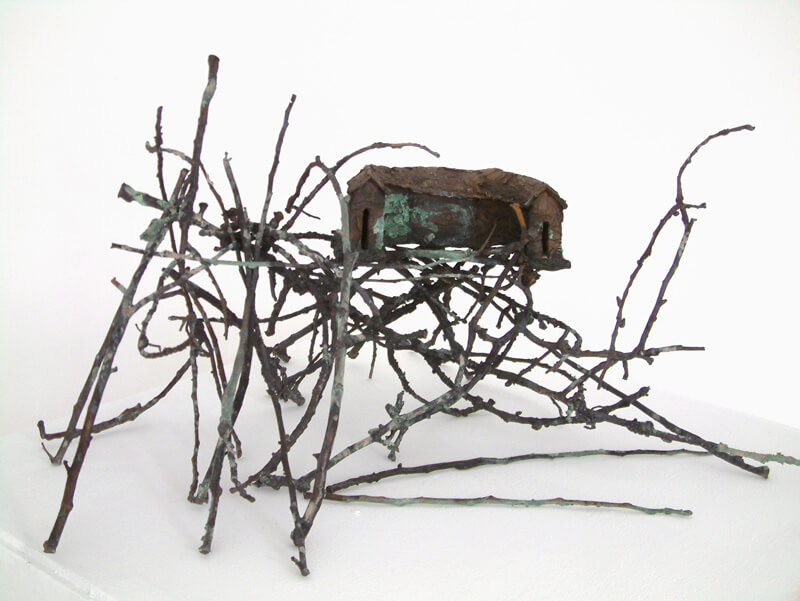 My sculpture is visual poetry.
Dreams interest me and beauty found in nature.
Houses are an open door to the imagination.
Art stops time.
What we are doing here? Flying.

John D. Antone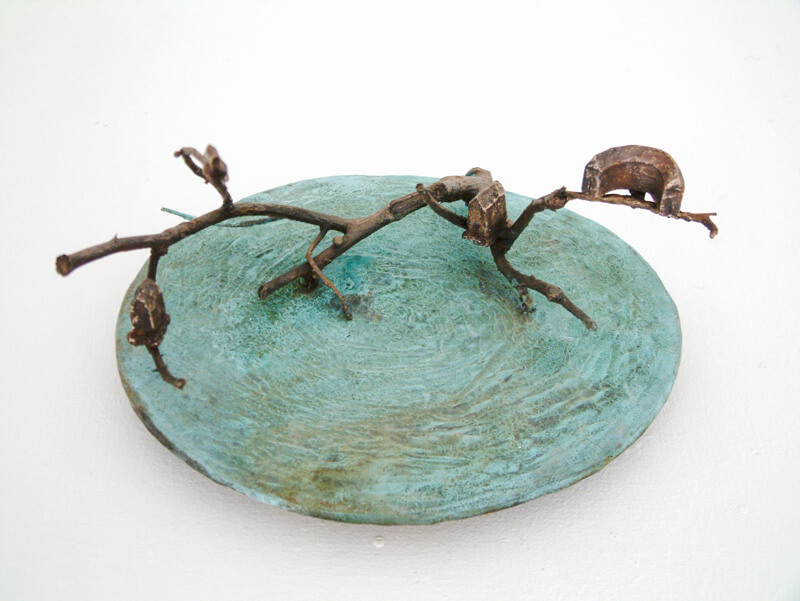 The motifs that continue to appear in the works of the US sculptor John D. Antone are elemental, taken from nature, and function as snapshots, but at the same time they are imaginary worlds of man in harmony with nature, or with his dream world, where everything is in contemplation. This is a universal language imbued with symbolism and poetic messages, especially about human transience, rebirth, and the eternity of the world. Messages about freedom, longing, safety, human warmth, and vulnerability, as well as the beauty of nature. The bronze-cast sculptures are composed of trees, branches, nests, and tiny twigs in which little birds and simple little houses are captured in compositions. Sometimes the houses are placed inside the tree crowns, sometimes they form the centre of the sculpture or are imbedded in a nest where their door is open, providing the author entry into the fantasy world. Little windowless houses signify isolation. They also symbolise home, mother, and woman. The tree symbolises life, death, and rebirth, and represents a man. The nests are symbols of eternal love, belonging, and human values.
John feels that the times we live in are becoming increasingly hopeless, with the individual becoming ever more isolated. He finds sense in escaping into the dream world, flying, and transitioning from entrapment to freedom. The birds are a metaphor for the soul leaving the body and also carry a message about the connectivity of the earth and sky, or parallel worlds.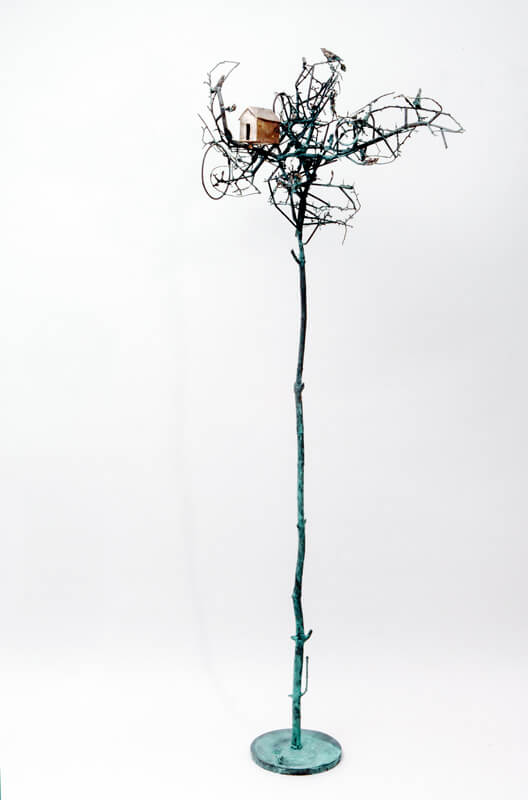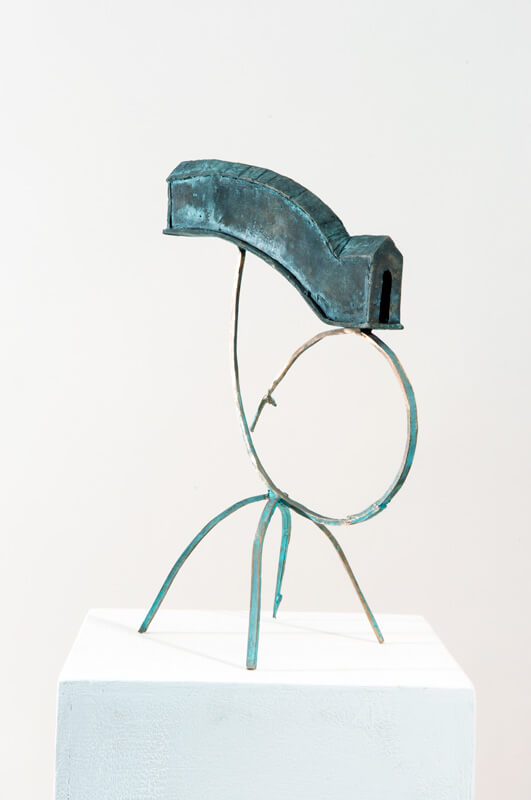 John believes art belongs to dreams.
That it lives in people's hearts, not heads. Art could be like religion.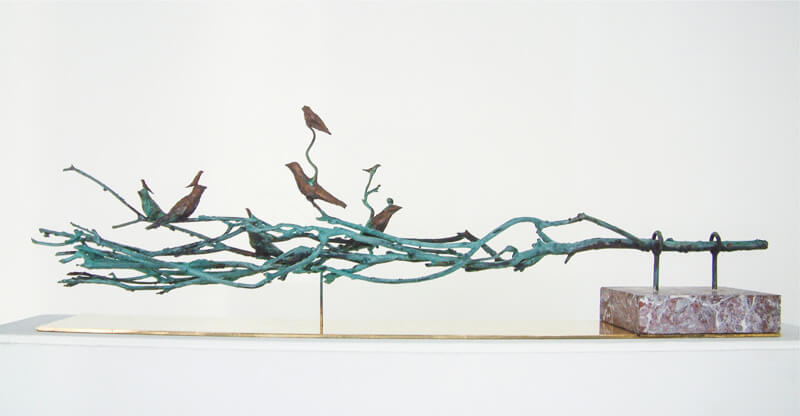 In contrast to contemporary art practices and trends, John's artistic expression is fairly traditional. He produces classical sculptures that are displayed at galleries. His bronze-cast sculptures are not created by removing and adding material. Instead, he spontaneously refines the natural with his interpretation.
The naturalistically depicted branches are their own replicas, like a matrix that leaves its form to the sculptor, who then adds objects of simplified forms to create original compositions. This way the artist creates classical little sculptures, which he places in various milieus as installations or mounts on gallery walls. His artistic expression is reflected in his perfection and mastery of technique. This involves not only his narrativity and concreteness, but also his lyrical narrative that is silently conveyed to the viewer, and his dream world.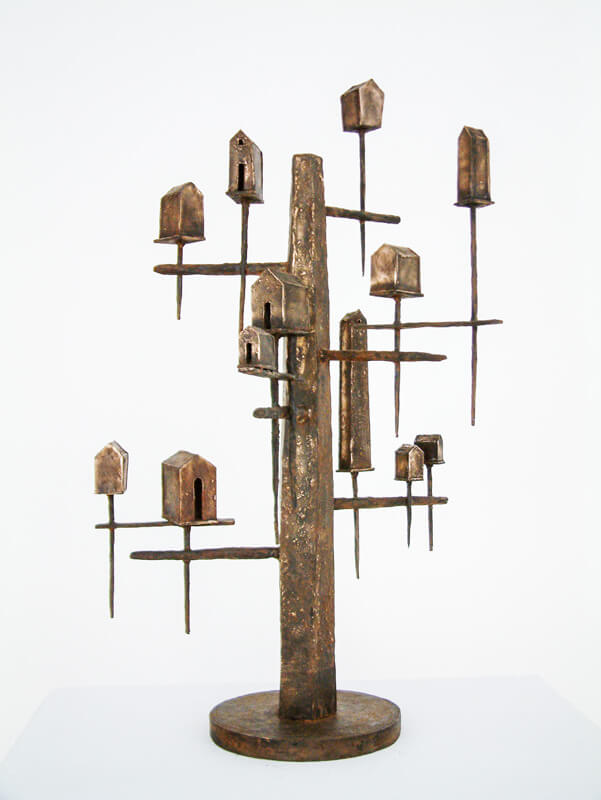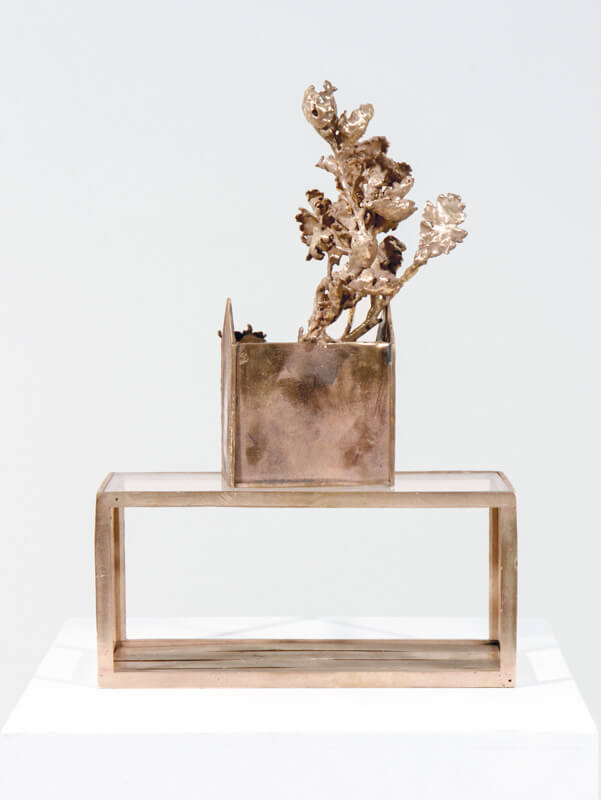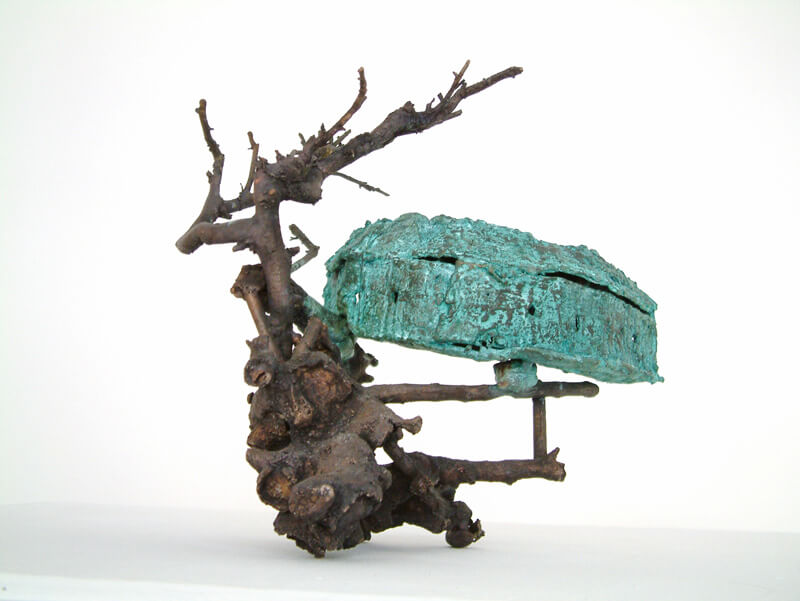 John is not only a sculptor, but also a lecturer and curator. He majored in sculpture at Virginia Commonwealth University in Richmond, VA (graduated in 1974), then continued his studies at the California Institute of the Arts in Los Angeles, CA (1975), where he worked with renowned conceptual artists, and earned his Master of Arts in Sculpture at the University of Wisconsin in Madison, WI, in 1978. Based in the US and Europe, he has had many exhibitions on both continents. In Europe, this includes Brussels, Prague, Budapest, Munich, as well as Ljubljana, where he occasionally lives and has presented his work since 2006, when he also held an exhibition at Atelje Galerija. Further displays in Ljubljana took place in 2007 and 2015 as part of other events, and in 2010, when he exhibited at the Ljubljana Town Hall. Antone was also a visiting professor at the University of Rijeka, Croatia, between 2007 and 2008. He currently lives and works in his native Washington, DC, where he is working on an exhibition for 2018.