Leon Zakrajšek
The Circle Carries a Tendency to Perfection Inside
Written by: Slavojka Akrapovič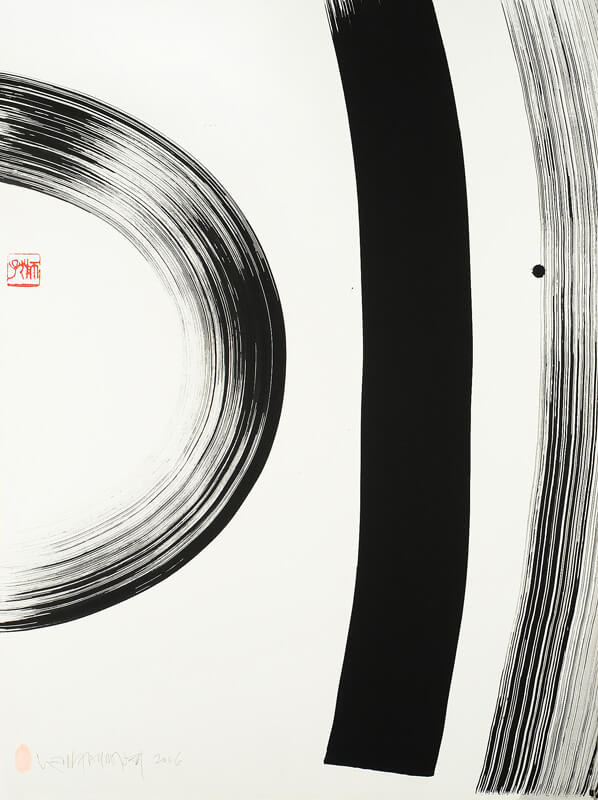 Leon Zakrajšek's artistic expression is characterized by seeking perfection in a single brushstroke in the sumi-e technique, ensō* monotypes, and acrylic. He is known for his devotion to ancient Chinese and Japanese graphic techniques, ritual painting, spiritualism, and the philosophy of Asian meditative principles and western artistic expressions. His gestures, abstractions, circles, and geometries of arches, lines, and minimalist elements also inspire modern architects and aesthetes.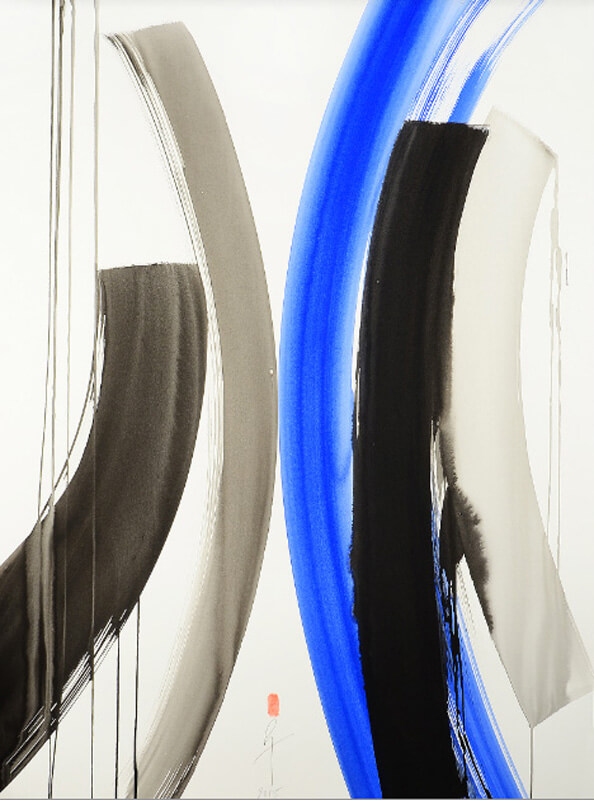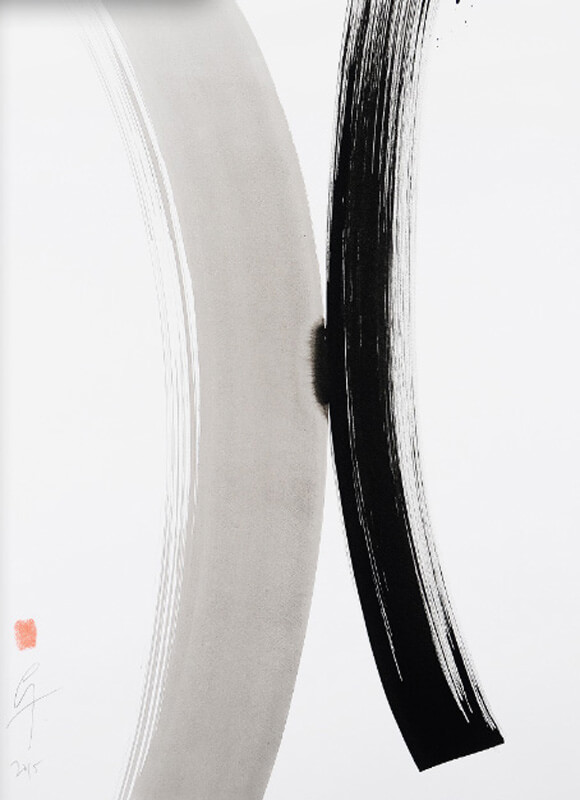 His geometric shapes, especially the circle, carry within them a tendency to perfection – a mystical symbolism that fascinates.
Zakrajšek's sumi-e represents and highlights the modernist principle of "less is more" through the traditional Chinese painting technique that uses graphite pencil / black ink and a special brush, and through the aesthetics and language of contemporary art as well as traditional East Asian skills. A while ago, Zakrajšek's art may have seem exotic to the eye of a Westerner, whereas now, during times of the global interconnection of economic and cultural ties across the globe as a whole, it is accepted as a merger of the eastern and western culture.
Leon was already attracted by the motif of the circle in his early youth. He was inspired by the Eastern culture, which, according to his own words, merges philosophy, religion, and nature, where the impact on the artist is stronger than in the Western culture.
After earning a degree in graphic art from the Ljubljana Academy of Fine Arts and Design, he continued his studies at the International Graphic Research Centre in Spain (Centre Internacional de Recerca Grafica-Calella), where he studied classical graphic techniques.
In 1997 and 1998, he studied at the Tama Art University in Tokyo as a Japanese Government scholarship recipient, in the Hanga-Kobo-Seya-ku private graphic art studio (mentored by Harumi Sonoyama) and with the woodcut masters Fumio Kitaoka, Yuki Rei, and Seiko Kawachi. He learned the Japanese painting and traditional Japanese calligraphy skills, and the sumi-e** technique. Sumi-e painting requires a special brush, paper, and ink produced from various types of trees. The ink is ground and diluted with water. Leon mostly uses cold black ink, which he considers velvety and which spills out into all the shades of grey within a single brushstroke. He combines it with blue tones and sometimes brown.
In sumi-e painting on paper, the flat brush is held in a special way to either paint glazes or to paint a single line with a single stroke, which is typical of the action or gesture painting originating in Zen Buddhism. In addition to ink, the paper also features a red seal and the artist's signature, which are considered part of the painting.
Zen painting strives for perfection while working toward spiritual growth.
While studying in Japan (1997–1998), Zakrajšek began to focus on the topic of the circle, exploring its symbolism as well as the skills, techniques, and philosophy behind it that an artist must understand in order to create one. Under the mentorship of the woodcutter, painter, and inventor Rei Yuki Yuki, a master artist and specialist in refined Japanese art techniques, he was introduced to the mysteries of this type of art.
In the past Zakrajšek primarily used the aquatint technique, but now he increasingly uses monotypes*** as his main means of expression.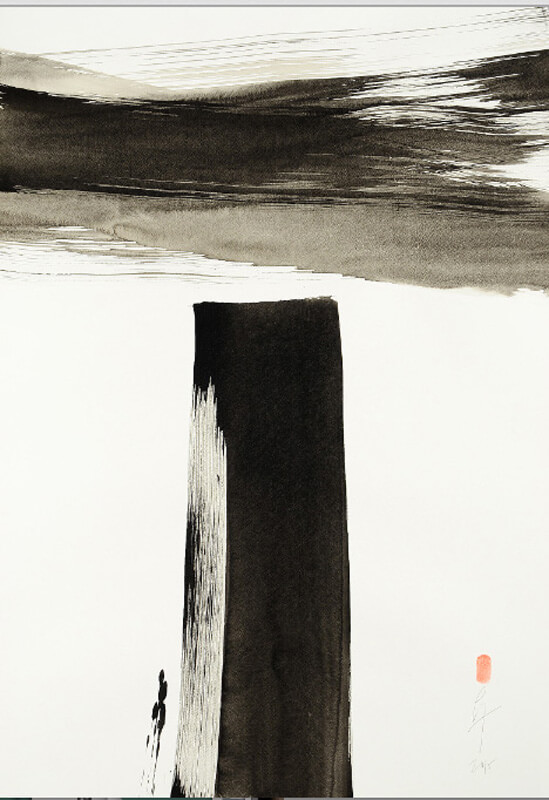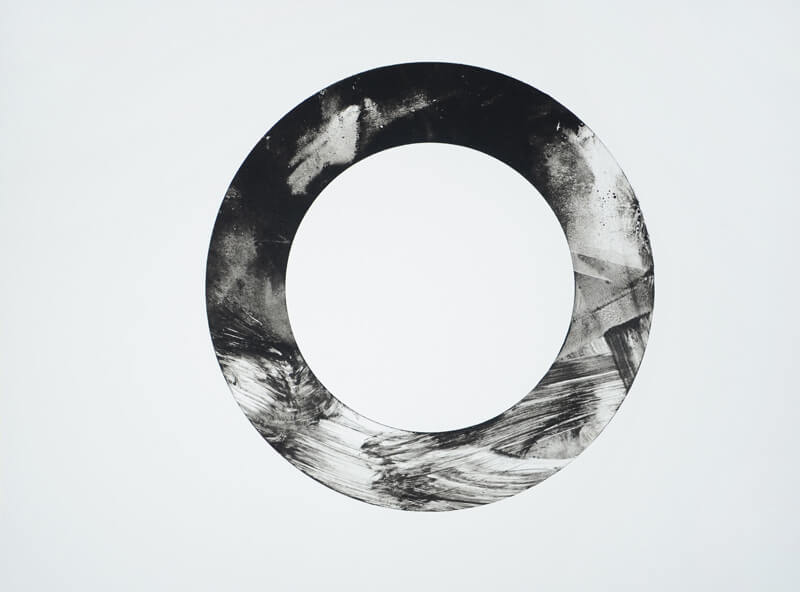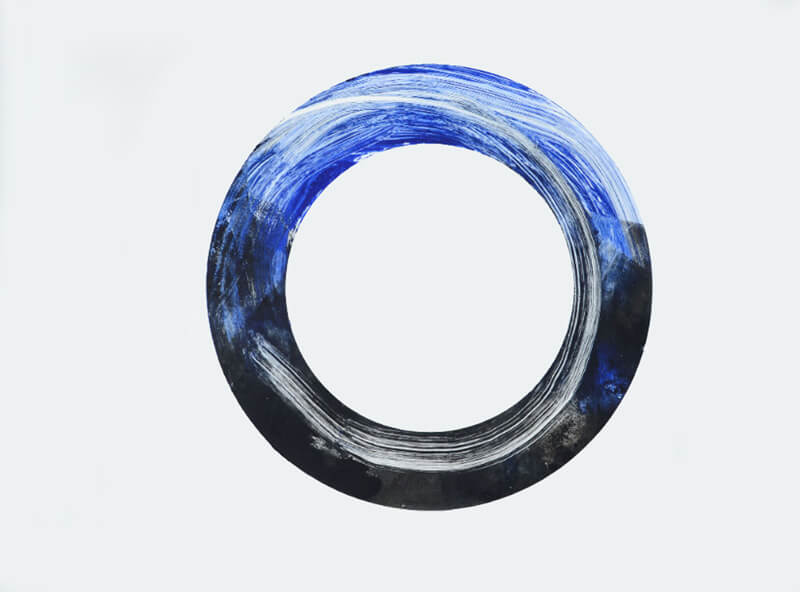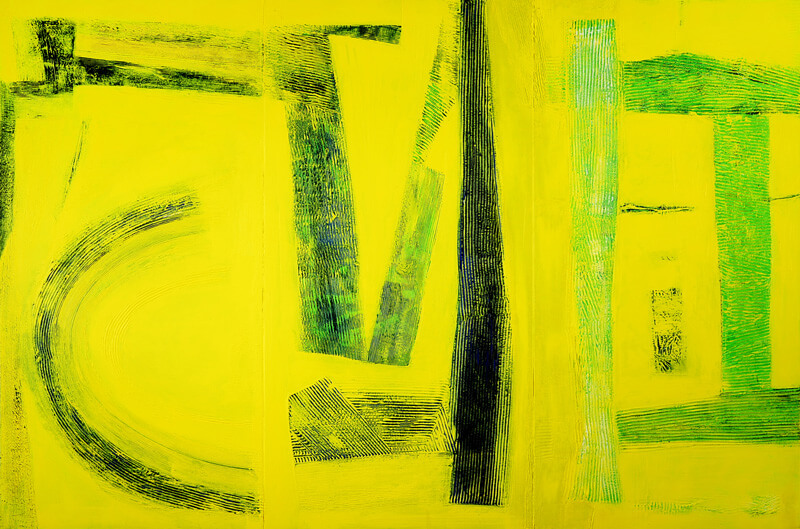 He uses copper plates or other materials to cut a ring, which he paints using his free brushstrokes. He then makes a print and destroys the plate.
In his creative oeuvre, Zakrajšek also uses oil and acrylic on canvas, which includes compositions of planes and colours that have an equally interesting effect as a whole and as a detail. They involve a dialogue between the colours, which remain distinct and do not blur into one another, and the texture of the grooves and lines running in different directions and strokes.
As an architect, I wanted to meet him and we happened to start cooperating in 2008 to our mutual satisfaction. He has been an important member of Atelje Galerija ever since.
I believe that Leon Zakrajšek's artwork fits in perfectly with the modernist and minimalism-oriented spaces, such as those architects are designing today, which are also modelled on Zen philosophy, because it binds them into a harmonious whole. For example, two lines that touch one another, forming a tangent, arouse lasting interest in the dramatic point of contact, which is hard to resist and captures our full attention.
The painter and graphic artist's resume includes over a hundred solo exhibitions and 170 group exhibitions held across the globe, from Slovenia to Japan, with his works featured in both private and public art collections.
*The ensō is a circle, a vast space lacking nothing and holding nothing in excess. It symbolizes the universe, absolute enlightenment, strength, abundance, and at the same time emptiness. It represents the moment in time when the mind is free to leave the body and the soul becomes a creative force (Shin Jin Mei, written by the third patriarch, Sosan, who died in AD 606).
** Sumi-e is Japanese monochrome ink painting, a technique first developed in China during the Song dynasty (960–1279) and brought to Japan by Zen Buddhist monks in the mid-fourteenth century.
***Monotyping is a printmaking technique that produces a single, unique print or monotype.